New 60 GHz Development System and Waveguide Modules
60 GHz Transmitter (Tx) and Receiver (Rx) Development System
Pasternack's 60 GHz Transmitter (Tx) and Receiver (Rx) waveguide modules enable low cost, extremely high speed applications utilizing the globally unlicensed 57 to 64 GHz spectrum. To facilitate rapid evaluation of Pasternack's 60 GHz waveguide modules and customer prototyping for system development, Pasternack has partnered with Vubiq (pronounced "View-bik"), an industry expert in designing 60 GHz RF systems, to create a development system that makes it easy to design new products and applications in the emerging unlicensed millimeter wave ISM band. This 60 GHz development system makes it easy to design new high-bandwidth products and solutions using user-friendly features such as an easy to use GUI for configuration via USB, standard WR-15 V-band waveguide interface, 1.8 GHz modulation bandwidth, and 802.11ad, 802.11aj or any 540/500 MHz channel, and more.
On the Air
in Minutes!

Roll over image for large view
Development System Includes:
• Easy-to-use interface software
• Waveguide SiGe Transmitter Module
• Waveguide SiGe Receiver Module
• WR15 Rx Board
• WR15 Tx Board
• Mounting Brackets
• (2) Tripods
• (2) AC-DC Power Adapters
• (2) USB interface Cables
• Expansion kit with phase matched
baseband coaxial cables
• Additional accessories sold separately
include: compatible low and high gain
horn antennas, cables and I/Q module.
• 802.11ad
• 802.11aj
• Point-to-point / Backhaul Radio Links
• HD video
• RADAR
• Radiometry
• Ethernet
• Remote Sensing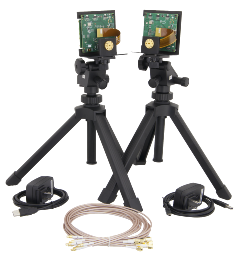 Using these tools and components, high-bandwidth data can be clearly transmitted at extreme high speeds. Because the 60 GHz System is so powerful and utilizes a globally-unlicensed RF spectrum, it is used for a variety of commercial applications.
The 60 GHz Waveguide Transmit / Receive Modules open up extreme high-speed, high-bandwidth data transmission for widespread use. It utilizes the globally-unlicensed millimeter wave spectrum (57 - 64 GHz), making these modules ideal for meeting the data transmission needs of companies and developers. Existing solutions currently available are expensive and difficult to integrate into systems. Pasternack's solution is equally effective at a fraction of the cost, and can be connected to any WR-15 waveguide, making it practical for a wide range of configurations and budgets.
These 60 GHz Tx/Rx modules have been designed to be a low cost and high volume solution for emerging markets working with ultra high-bandwidth applications including, but are not limited to, those listed below.
• Generic for maximum versatility
• Small for easy implementation
• Orders of magnitude faster than current
low-cost options
• Operates in the 57 to 64 GHz unlicensed band
• 30 minutes or less user friendly setup
• 802.11ad
• 802.11aj
• Point-to-point / Backhaul Radio Links
• HD video
• RADAR
• Radiometry
• Ethernet
• Remote Sensing
Roll over image for large view
Roll over image for large view
For a complete list of Pasternack's products please click here
© Pasternack Enterprises, Inc. 1999-2013
Toll-free: 866-PASTERNACK (866-727-8376)
Phone: 949-261-1920
Fax: 949-261-7451