Pasternack Introduces New Line of
1 Watt and 2 Watt Medium Power Broadband Amplifiers Up to 18 GHz
Product Features
• SMA connectors
• 1 Watt & 2 Watt amplifier models
• 18 GHz max. frequency
• Hermetically-sealed modules
• GaAs pHEMT technology
• Unconditionally stable
• High P1dB Power Output: 30 to 33 dBm
• Small Signal Gain: 32 dB min
• High Output IP3 (Linearity): 39 to 42dBm
• Gain Flatness: ±1.0 to ±2.0 dB
• EAR99 (No Export License Required)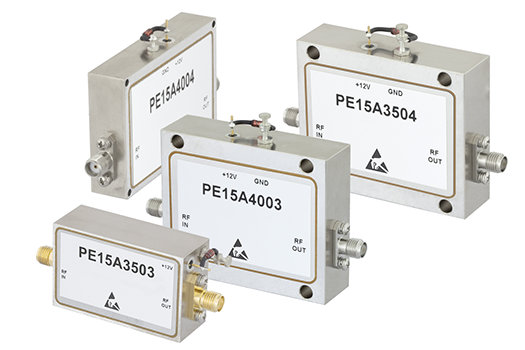 1 Watt and 2 Watt Medium Power Broadband Amplifiers Up to 18 GHz
These medium power broadband amplifiers are in-stock and available to ship today!
Our 1 Watt and 2 Watt medium power broadband amplifiers are ideal for defense, EW/ECM, radar, test instrumentation, telecom, satcom, microwave radio and industrial applications from 2 GHz to 18 GHz. These broadband amplifiers are offered in 1 Watt and 2 Watt models and range in frequency from 2 to 18 GHz depending on the RF amplifier configuration. The broadband power amplifiers are designed with a hybrid microwave integrated circuit design and utilize advanced GaAs pHEMT technology.
Medium power broadband amplifiers from Pasternack are housed in hermetically sealed modules and will operate from -55°C to +85°C. This comprehensive product offering of RF power amplifier provides our customers a choice of gain levels, frequency ranges and power outputs for their specific requirements. Pasternack's 1 Watt and 2 Watt broadband RF power amplifiers have outstanding performance in gain ranging from 32 dB to 48 dB, gain flatness from ±1 dB to ±2 dB at the higher frequency range of 12 GHz to 18 GHz, and high linearity levels (IP3) of 39 dBm to 42 dBm.
For a complete list of Pasternack's products please click here
© Pasternack Enterprises, Inc. 1999-2018
Toll-free: 866-PASTERNACK (866-727-8376)
Phone: 949-261-1920
Fax: 949-261-7451