3 GHz Bi-directional Attenuators Type N 10 Watts
3 GHz Maximum Attenuator Frequency
10 watts Maximum Attenuator Power
Attenuators use Type N Connectors
Attenuation values of 3dB, 6dB, 10dB, 15dB, 20dB, 30dB and 40dB
Max 1.2:1 VSWR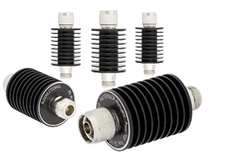 3 GHz Bi-directional Type N Attenuators Rated for 10 Watts
Pasternack introduces a new product line of Type N 3 GHz attenuators. Our bi-directional 3 GHz attenuators add to our over 40,000 in-stock RF, microwave and millimeter wave products that ship the same day as purchased. These new RF lower frequency coaxial attenuators are specially suited for in-the-field uses and other general purpose applications where costly stainless steel designs and high performance are not required.
Our 3 GHz attenuators are offered with Type N connectors. Pasternack low frequency attenuators can be purchased with 1 dB, 2 dB, 3 dB, 6 dB, 10 dB, 15 dB, 20 dB or 30 dB attenuation ratings depending on model. These bi-directional RF attenuator models are available for sale and all are RoHS and REACH compliant.
Pasternack's 3 GHz attenuators have peak power ratings of 10 Watts. The superior cooling of these low frequency attenuators allows them to effectively operate between a temperatures of -55 to +125 degrees C, making them an ideal solution for a wide range of environmental conditions.
For a complete list of Pasternack's products please click here
© 2020 Infinite Electronics, Inc. Pasternack is a registered trademark of Infinite Electronics, Inc. sales@pasternack.com
Toll-free: 866-PASTERNACK (866-727-8376)
Phone: 949-261-1920
Fax: 949-261-7451