4 GHz Bi-directional Attenuators Type N 25 Watts
4 GHz Maximum Frequency
25 watts Maximum Power
N Connectors
Attenuation values of 1 dB, 2 dB, 3dB, 6dB, 10dB, 20dB,
30dB and 40dB
Max 1.25:1 VSWR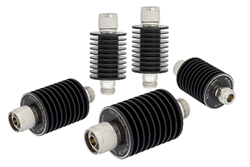 Low Frequency 4 GHz Bi-directional Attenuators
Pasternack introduces a new product line of low frequency RF attenuators. Our 4 GHz attenuators add to our over 35,000 in-stock RF and microwave products that ship the same day as purchased. These new RF lower frequency coaxial attenuators are specially suited for in-the-field uses and other general purpose applications where costly stainless steel designs and high performance are not required.
Our 4 GHz attenuators are offered with Type N connectors. Pasternack low frequency attenuators can be purchased with 1 dB, 2 dB, 3 dB, 6 dB, 10 dB, 20 dB, 30 dB or 40 dB attenuation ratings depending on model. These bi-directional RF attenuator models are available for sale and all are RoHS and REACH compliant.
Pasternack's 4 GHz attenuators have peak power ratings of 25 Watts. These RF attenuators are manufactured with large aluminum heatsink cooling fins which help to quickly dissipate heat during operation. The superior cooling of these low frequency attenuators allows them to effectively operate between a temperatures of -55 to +125 degrees C, making them an ideal solution for a wide range of environmental conditions.
For a complete list of Pasternack's products please click here
© 2020 Infinite Electronics, Inc. Pasternack is a registered trademark of Infinite Electronics, Inc. sales@pasternack.com
Toll-free: 866-PASTERNACK (866-727-8376)
Phone: 949-261-1920
Fax: 949-261-7451