SMP And Mini-SMP Adapters

Introducing

SMP and Mini-SMP Adapters

from Pasternack Enterprises
Pasternack Enterprises' SMP adapters and Mini-SMP adapters, also known as SMPM adapters, are capable of converting multiple connector types including SMP, Mini SMP, SMA, 2.92mm, 2.4mm, 3.5mm and 1.85mm connectors. Frequency ratings for these SMP and SMPM microwave adapters range from 18 GHz to 65 GHz depending on type and style. These new higher frequency, precision Mini-SMP and SMP adapter versions are compatible and fully mate-able with Corning Gilbert GPO® and GPPO® connectors.
Pasternack's new lines of SMP adapters and SMPM adapters utilize passivated stainless steel construction and Beryllium copper (BeCu) designs for the SMP female connectors. These new Corning Gilbert GPO® and GPPO® compatible adapters are ideal for use on test systems with SMA, 2.92mm or 2.4mm test ports that must interface with a Mini SMP or SMP equipped Device Under Test (DUT). Other common applications for these precision SMP and SMPM adapters include millimeter wave systems that require blind-mate interface for SMA, 2.92mm or 2.4mm connectors and fiber systems requiring broad bandwidth interface to an RF system.
Mini SMP Precision Adapters
SMP Panel Mount Precision Adapters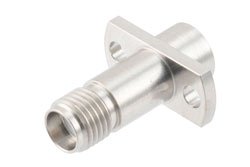 For a complete list of Pasternack's RFAdapters please click here
* GPO and GPPO are Registered Trademark of Corning Gilbert Inc.
© Pasternack Enterprises, Inc. 1999-2018
Toll-free: 866-PASTERNACK (866-727-8376)
Phone: 949-261-1920
Fax: 949-261-7451