Pasternack Introduces New Line of
X Band High Gain Power Amplifiers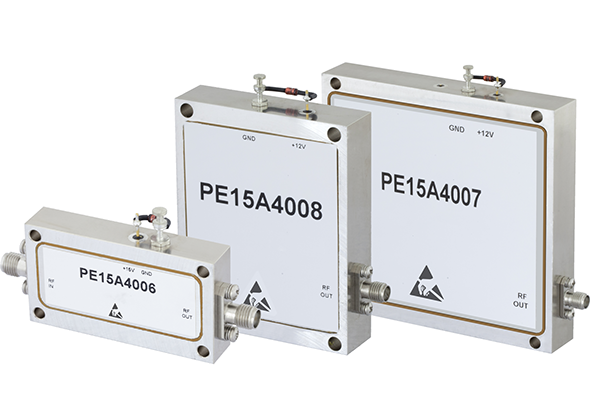 Product Features
• SMA connectors
• 1 Watt & 4 Watt amplifier models
• 8 to 12 GHz max. frequency
• Hermetically-sealed modules
• GaAs pHEMT based technology
• Unconditionally stable
• High P1dB Power Output: 30 to 36 dBm
• Small Signal Gain: 30 dB min
• High Output IP3 (Linearity): 38 to 44dBm
• Gain Flatness: ±0.5 to 1.0 dB
• EAR99 (No Export License Required)
1 Watt, 8.5 GHz to 11 GHz, Medium Power Amplifier,
30 dB Gain, 38 dBm IP3, 3 dB NF, SMA
4 Watt, 8.5 GHz to 11 GHz, Medium Power Amplifier,
30 dB Gain, 45 dBm IP3, 5 dB NF, SMA
41 dB Gain, 1 Watt, 8 GHz to 12 GHz, Medium Power High Gain
Amplifier, 3.5 dB NF, SMA
X Band High Gain Power Amplifiers
Pasternack's new X band high gain power amplifiers are packaged in a hermetically-sealed metal enclosures and exhibit outstanding performance in high gain, gain flatness, high linearity and wide dynamic range. This excellent power amplifier performance is achieved by using a hybrid microwave integrated circuit design and advanced GaAs pHEMT components. The connectorized SMA amplifier modules are unconditionally stable and include built-in voltage regulation, bias sequencing, and reverse bias protection for added reliability. The over-voltage protection on our high gain RF amplifiers is installed externally for easy repair. These high reliability amplifiers are fully matched internally for 50 Ohm input and output, which eliminates the need for any additional sensitive external RF tuning components.
The new X band high gain power amplifiers from Pasternack are perfectly suited for high linearity applications with frequencies ranging from 8 to 12 GHz. These radio frequency amplifiers offer 30 to 41 dB small signal gain over a temperature range of -30°C and +70°C. These Pasternack high gain amplifiers have excellent gain flatness ranges from 0.50 dB to 1.0 dB and the IP3 output performs up to 44 dBm. Pasternack's new RF amplifiers are offered in 1 Watt and 4 Watt designs depending on the configuration.
Pasternack RF Amplifier Part #

Parameter (Typical)

Units

Amplifier Frequency Range

GHz

8.5 - 11

8.5 - 11

8.0 - 12

Small Signal Gain

dB

30

30

41

Gain Flatness

dB

±0.5

±0.75

±1.0

P1dB Output Power

dBm

30

36

30

Output IP3 (Linearity)

dBm

38

45

Noise Figure

dB

3

5

3.5

Input VSWR

1.7:1

1.8:1

2:1

Output VSWR

1.7:1

1.8:1

2:1

DC Supply Voltage

V

15

12

12

Current Supply

A

0.9

4.5

1.2

Operating Temperature Range

°C

-30 to +60

-30 to +60

-30 to +70
For a complete list of Pasternack's products please click here
© Pasternack Enterprises, Inc. 1999-2016
Toll-free: 866-PASTERNACK (866-727-8376)
Phone: 949-261-1920
Fax: 949-261-7451