USA & Canada +1 (866) 727-8376 International +1 (949) 261-1920
USA & Canada (866) 727-8376 International +1 (949) 261-1920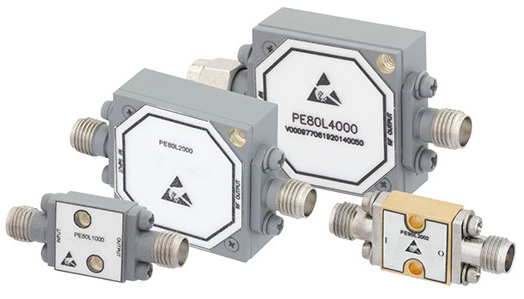 Broadband High Power
Coaxial Limiters
• Broadband coaxial limiter frequencies ranging from 0.5 GHz to 40 GHz
• Fast Recovery Time: 10 nanoseconds typical on these limiters
• Low leakage power circuit protection: 10 to 15 dBm typical
• High power limiter series handling up to 200 watts peak
• 50 Ohm hybrid designs incorporate complete limiting diode circuitry
Coaxial high power limiter series is in-stock and available to ship the same day
| | | | | | | | | | |
| --- | --- | --- | --- | --- | --- | --- | --- | --- | --- |
| | | 0.5-18.0 | 1.5 | 10 | 10 | 1 | 10 | 0.5 x 0.5 x 0.22 | SMA |
| | | | | | | | | | |
| | | | | | | | | | |
| --- | --- | --- | --- | --- | --- | --- | --- | --- | --- |
| | | 2.0-8.0 | 1 | 13 | 3 | 5 | 40 | 1.0 x 1.0 x 0.4 | SMA |
| | | | | | | | | | |
Mechanical
Dimensions
L(in) X W(in) X H(in)
| | | | | | | | | | |
| --- | --- | --- | --- | --- | --- | --- | --- | --- | --- |
| | | 6.0-18.0 | 2.5 | 15 | 10 | 10 | 12 | 1.0 x 1.0 x 0.5 | SMA |
| | | | | | | | | | |
| | | | | | | | | | |
| --- | --- | --- | --- | --- | --- | --- | --- | --- | --- |
| | | 2.0-18.0 | 1.7 | 10 | 6 | 1 | 20 | 0.75 x 1.0 x 0.3 | SMA |
| | | | | | | | | | |
| | | | | | | | | | |
| --- | --- | --- | --- | --- | --- | --- | --- | --- | --- |
| | | 18.0-40.0 | 3.5 | 12 | 5 | 1 | 10 | 0.5 x 0.5 x 0.22 | 2.92mm |
| | | | | | | | | | |
| | | | | | | | | | |
| --- | --- | --- | --- | --- | --- | --- | --- | --- | --- |
| | | 2.0-18.0 | 2 | 14 | 6 | 1 | 100 | 0.75 x 1.0 x 0.3 | SMA |
| | | | | | | | | | |
| | | | | | | | | | |
| --- | --- | --- | --- | --- | --- | --- | --- | --- | --- |
| | | 12.0-18.0 | 1.5 | 10 | 3 | 1 | 10 | 1.0 x 1.0 x 0.4 | SMA |
| | | | | | | | | | |
Broadband High Power Coaxial Limiter Series from Pasternack
Pasternack coaxial high power limiter series operates over a broad frequency range. These high power coaxial limiter components cover bands from 0.5 to 40 GHz. The broadband limiters provide high power handling up to 200 watts of peak power.

The SMA and 2.92mm high power limiter components maintain fast recovery times from 10 to 100 nanoseconds. These RF limiter products provide low leakage power to sensitive control components in the receiver chain, while offering good suppression of even-order harmonics under hard limiting. All limiter models are classified as EAR99.

As with the other over 40,000 RF, microwave and millimeter wave components from Pasternack, this coaxial broad-band high power limiter series is in-stock. Additionally, these high power RF limiters will ship the same day as they are purchased.
For a complete list of Pasternack's products please click here
© 2020 Infinite Electronics, Inc. Pasternack is a registered trademark of Infinite Electronics, Inc.
sales@pasternack.com
Toll-free: 866-PASTERNACK (866-727-8376)
Phone: 949-261-1920
Fax: 949-261-7451