USA & Canada (866) 727-8376 International +1 (949) 261-1920
USA & Canada (866) 727-8376 International +1 (949) 261-1920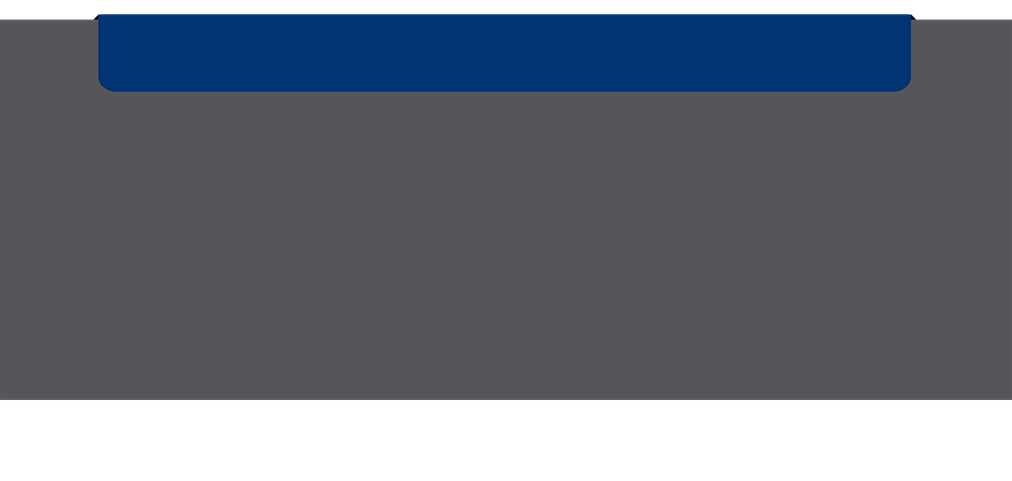 Waveguide SPST and SPDT reflective switch designs cover E band and W band frequencies ranging from 60 GHz to 110 GHz
Fully integrated TTL driver circuitry With SMA connector control port
Low insertion loss ranges From 3.5 to 5 dB typical depending on the Model
High isolation: 25 dB typical / 20 dB min
WR-10 and WR-12 integrated waveguide switch ports support a UG387/U flange size
Fast switching speed less than 300 nsec
Rugged mil-grade packaging operates over full temperature range of -55°C to +85°C
Waveguide PIN diode switch series is in stock
and ready for same-day shipping!
▼ Click below for more PIN diode waveguide switch details
E-Band and W-Band Waveguide PIN Diode Switches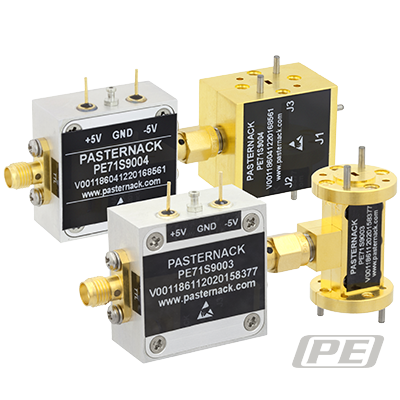 PE71S9001

SPST

60 to 90

3.5

25

0.5

< 300

WR-12

+5 / -5
---
PE71S9002

SPDT

60 to 90

4.5

25

0.5

< 300

WR-12

+5 / -5
---
PE71S9003

SPST

75 to 110

4

25

0.5

< 300

WR-10

+5 / -5
---
PE71S9004

SPDT

75 to 110

5

25

0.5

< 300

WR-10

+5 / -5
---
Waveguide PIN Diode Switch Series
Pasternack's single-pole single-throw (SPST) and double-pole double-throw (DPDT) PIN diode waveguide switch series feature fully integrated WR-10 and WR-12 waveguide ports. These waveguide PIN diode switch components cover popular E-band (60 to 90 GHz) and W-band (75 to 110 GHz) frequencies. Waveguide switch circuits integrate low loss Fin-line assemblies with high performance GaAs beam-lead diodes.

The E band and H band pin diode waveguide switch low loss Fin-line assemblies with GaAs beam-lead diodes used result in 4 dB insertion loss. Not only a 4 db insertion loss, but also greater than 25 dB of Isolation and fast switching speed < 300 nsec is achieved with these waveguide switches. All PIN diode waveguide models require a dual voltage bias of +5 / -5 Vdc and have a maximum rated CW input power level of 0.5 dBm.

These waveguide PIN diode switches incorporate TTL driver circuitry with an SMA connector control port for ease of use. Rugged MIL-grade compact package configurations combine both switch and control module packages. Pasternack SPST and DPDT waveguide switch components offer maximum performance and reliability over a full temperature range of -55°C to +85°C.

Not only are the dsub controlled radio frequency switch series in stock, they will also ship the same-day as purchased from Pasternack as do our other over 45,000 RF, microwave and millimeter wave components. This is why Pasternack is one of the best websites where to find and buy RF microwave electromechanical relay switch products as well as other items for your needs.
For a complete list of Pasternack's products please click here
© 2019 Infinite Electronics, Inc. Pasternack is a registered trademark of Infinite Electronics, Inc.
sales@pasternack.com
Toll-free: 866-PASTERNACK (866-727-8376)
Phone: 949-261-1920
Fax: 949-261-7451