Custom Low PIM Cable Assemblies
The Cable Creator
Need a connector coax combination you cannot find?
Need a custom length?
Call us or check out our on-line cable configurator
Large selection of connector and coax options
On-line cable configurator
Professional technical support staff
Custom assemblies ship same day with verified
PIM performance
Check out our cable creator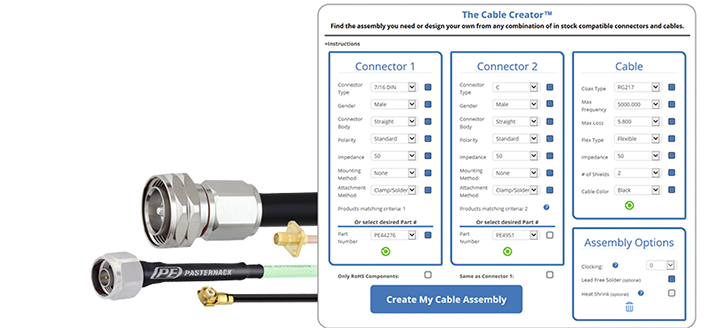 Pasternack's low passive intermodulation (PIM), low loss jumper cable assemblies feature a max PIM level of -160 dBc depending on connector of choice and ship the same day they are ordered. We build these low PIM, low loss assemblies using Pasternack's own ¼ inch Superflex as well as popular coax options from Times Microwave, a leading supplier of low PIM coaxial cable. The PIM levels of each RF cable assembly have been fully tested with the results of those tests marked on each cable. These low-PIM coaxial cables boast a maximum operating frequency of 6 GHz and a maximum VSWR of 1.25:1 up to 2 GHz and 1.35:1 up to 6 GHz.
These low PIM coax cables are lightweight, flexible and have an operating temperature range of -55 degC to +125 deg C. A broad selection of RF cable connectors are available including 2.2-5, 4.3-10, 7/16 DIN, Type N, QMA, NEX10, 4.1-9.5 mini-DIN, and SMA. These coax cable connectors are available in multiple configurations including straight male and female genders, bulkhead mount and right angle configurations. Typical applications for these Pasternack low loss, low PIM coaxial cable assembly products include multi-carrier communication systems, indoor wireless systems, industrial automation systems, distributed antenna systems (DAS) as well as outdoor antenna jumpers. These low PIM cables are offered in custom lengths and connector combinations with same day shipping!