USA & Canada (866) 727-8376 International +1 (949) 261-1920
USA & Canada (866) 727-8376 International +1 (949) 261-1920



Semi-Rigid RF Test Probes
Operating Up to 6 GHz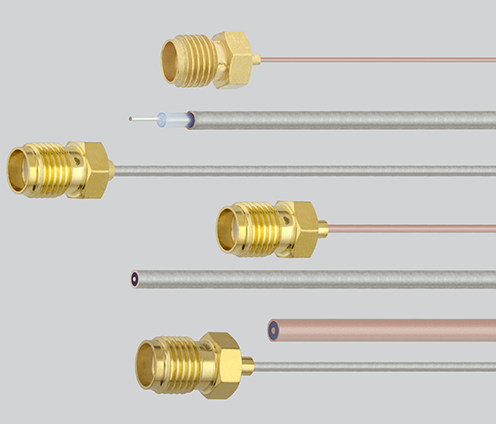 .020 Diameter | SMA Test Probe Series
Semi-Rigid RF Test Probe Series
Pasternack's RF test probe series is offered in 3 different diameters of semi-rigid coax. The semi-rigid coax cable of the RF testing probe series includes 0.02 inch (0.51mm), 0.034 inch (0.86mm) and 0.047 inches (1.19mm). All radio frequency test probe cable assemblies are 100% RF tested.

Test probe cables for RF from Pasternack operate to a maximum frequency of 6 GHz. We RF test our semirigid probes to ensure that the SMA connector interface meets the 1.35:1 VSWR specification prior to shipping. These test assemblies come in 3, 6, 9 and 12 inch lengths and are designed to fit a variety of trace widths and applications.

The RF probes are also terminated with female gender SMA connectors. The new semi-rigid SMA test probes from Pasternack are available for purchase in two versions. Straight-cut RF probe ends are for those that would like to customize the dimensions of the center conductor and dielectric dimensions. Pre-stripped RF probe ends (also called pig tail) are ready for immediate use and do not require any additional stripping.

Just like our other over 40,000 RF, microwave and millimeter wave products, this semi-rigid RF testing probe series is in-stock. In addition to being in stock, these RF semirigid test probes will ship the same day as ordered.
For a complete list of Pasternack's products please click here
© Pasternack Enterprises, Inc. 1999-2018
Toll-free: 866-PASTERNACK (866-727-8376)
Phone: 949-261-1920
Fax: 949-261-7451