USA & Canada +1 (866) 727-8376 International +1 (949) 261-1920
USA & Canada (866) 727-8376 International +1 (949) 261-1920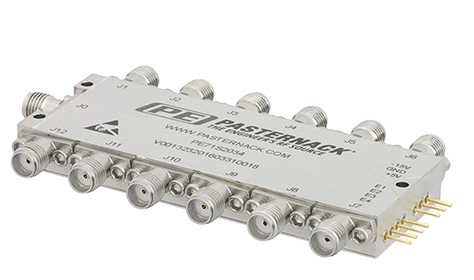 SP12T PIN diode switches are in-stock and available to ship the same day!
Pasternack single pole twelve throw (SP12T) pin diode switches cover a frequency band from 100 MHz to 20 GHz. The absorptive SP12T pin diode switch design features excellent isolation of 65 dB typical and fast switching speed of 75 nsec typical. The MIL-Grade rugged coaxial pin diode SP12T switch package design is compact and has integrated TTL compatible logic control circuitry.
SP12T PIN Diode Switches

Part No.
& Additional
Views
Typical
Insertion
Loss (dB)
Typical
Switching
Time (ns)
Max RF Input
Power (CW)
(Watts)
PE71S2034

Absorptive

100-20,000

65

5.2

100

0.5

Solder Pin

SMA Female

No
Click a PIN diode switch category below for more details
Additional switches to explore
For a complete list of Pasternack's products please click here
© 2020 Infinite Electronics, Inc. Pasternack is a registered trademark of Infinite Electronics, Inc.
sales@pasternack.com
Toll-free: 866-PASTERNACK (866-727-8376)
Phone: 949-261-1920
Fax: 949-261-7451