USA & Canada (866) 727-8376 International +1 (949) 261-1920
USA & Canada (866) 727-8376 International +1 (949) 261-1920


2 Models with Popular K and Ka Band Center Frequencies of 24.125 GHz and 35 GHz
Designs feature mechanical tuning capability ranging up to ± 3 GHz
Excellent Phase Noise Performance as low as -98 dBc/Hz typical
+10 dBm Output Power with Frequency Stability as low as -0.2 MHz/°C
Models have an Operational Temperature Range of -40°C to +85°C
Compact Aluminum Packages have Precision Machined Cavities that exhibit Optimum Performance
Fully Integrated Mil Grade WR-28 and WR-42 Waveguide Ports
Phase Locked Oscillator series is in stock
and ready for same-day shipping!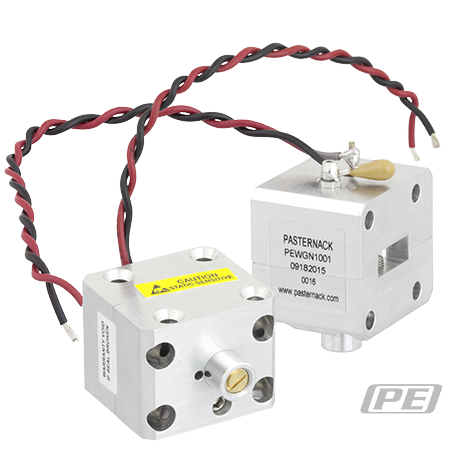 Waveguide Gunn Diode Oscillators
Part No.
Additional Views
Frequency
Stability
(MHz/oC)
Phase Noise
100 KHz Offset
(dBc/Hz) (Typ)
PEWGN1001

24.125

+/- 1000

+10

-0.2

-0.03

-98

WR-42/
UG-595/U

5

200
---
PEWGN1000

35

+/- 3000

+10

-0.4

-0.04

-95

WR-28 /
UG-599/U

5.5

250
---
Waveguide Gunn Diode Oscillators from Pasternack
Pasternack's Gunn diode oscillators incorporate high performance devices and machined aluminum cavities. Due to the extremely high external Q and temperature compensation mechanism, these Gunn Diode oscillator's exhibit excellent frequency and power stability, lower phase noise and higher anti-load pulling characteristics.
The PEWGN1001 model is a K-Band waveguide Gunn oscillator module that generates a center frequency of 24.125 GHz with a tuning range of +/- 1.0 GHz. The PEWGN1000 model generates a Ka band center frequency of 35 GHz with a tuning range of +/- 3.0 GHz. Both models incorporate self-locking tuning screws.
Performance specifications include phase noise as low as -98 dBc/Hz typical at 100 KHz offset and frequency stability as low as -0.2 MHz/°C maximum. The output power of these oscillators is +10 dBm min with power stability of -0.03 dB/°C maximum. Bias supply is +5 to +5.5 Vdc at 200 to 250 mA typical with an operating temperature range of -40°C to +85°C.
The rugged and compact package designs support output frequency ports with fully integrated Mil-grade waveguide flanges of WR-42 UG-595/U for K band and WR-28 UG-599/U for Ka band.
For a complete list of Pasternack's products please click here
© Pasternack Enterprises, Inc. 1999-2018
Toll-free: 866-PASTERNACK (866-727-8376)
Phone: 949-261-1920
Fax: 949-261-7451