Pasternack Introduces New Line of
Broadband Limiting Amplifiers
60 dB Gain, 80 mW, 1 GHz to 2 GHz, Limiting Amplifier, -40 to 10 dBm Pin, SMA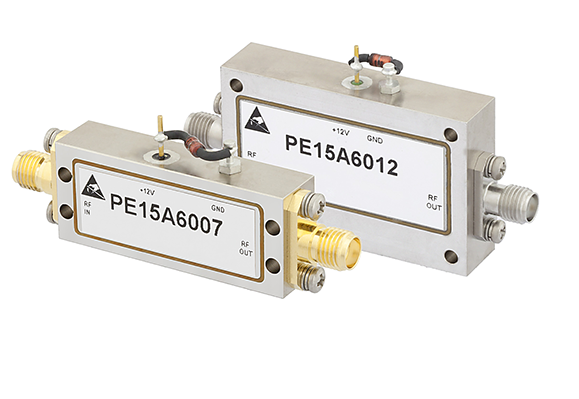 In-stock and available
to ship today!
SMA Connectors, 50 ohm Input/Output
Hermetically-Sealed Modules
EAR99 (No Export License Required)
80 dB Gain, 30 mW, 2 GHz to 6 GHz, Limiting Amplifier, -61 to 10 dBm Pin, SMA
40 dB Gain, 80 mW, 2 GHz to 8 GHz, Limiting Amplifier, -20 to 20 dBm Pin, SMA
40 dB Gain, 80 mW, 6 GHz to 18 GHz, Limiting Amplifier, -20 to 20 dBm Pin, SMA
Broadband Limiting Amplifiers
Pasternack's new coaxial limiting amplifiers cover a wide frequency range between 1 to 18 GHz. These broadband limiting amplifiers are used to protect sensitive microwave receivers by "limiting" excessive input power which could potentially create unwanted distortion or even damage the receiver. This new portfolio of limiting amplifiers accept a wide range of input power levels, while responding with a limited range of output powers between 15 and 19 dBm with a saturated power output deviation of ±0.5 dB over the frequency range, independent of the input. These RF amplifiers demonstrate a wide input dynamic range between -61 dBm to +20 dBm, high gain levels of 40 to 80 dB typical gain while exhibiting excellent gain flatness performance of ±1 dB depending on the specific model.
Our new wideband limiting amplifiers are housed in hermetically-sealed packages and are designed to withstand harsh environments with operating temperatures ranging from -30 to +70 degrees C. The connectorized SMA limiting amplifiers are unconditionally stable and include built-in voltage regulation, bias sequencing, and reverse bias protection for added reliability. Over-voltage protection is installed externally for easy repair and the amplifiers are fully matched internally for 50 Ohm input and output, which eliminates the customers need for any additional sensitive external RF tuning components.
Pasternack RF Amplifier Part #

Parameter (Typical)

Units

Amplifier Frequency Range

GHz

1.0 -2.0

2.0 -6.0

2.0 -8.0

6.0 - 18.0

Small Signal Gain

dB

60

80

40

40

Gain Flatness

dB

+/-2.5

+/-3

+/-2

+/-2

Input Power

dBm

-40 to +10

-61 to +10

-20 to +20

-20 to +20

Psat

dBm

+19

+15

+19

+19

NF

dB

2.5

4

5

4

Input VSWR

2:1

2:1

2:1

2:1

Output VSWR

2:1

2:1

2:1

2:1

DC Supply Voltage

Volts

12

12

12

12

Current Supply

mA

250

550

300

300
For a complete list of Pasternack's products please click here
© 2020 Infinite Electronics, Inc. Pasternack is a registered trademark of Infinite Electronics, Inc. sales@pasternack.com
Toll-free: 866-PASTERNACK (866-727-8376)
Phone: 949-261-1920
Fax: 949-261-7451