USA & Canada (866) 727-8376 International +1 (949) 261-1920
USA & Canada (866) 727-8376 International +1 (949) 261-1920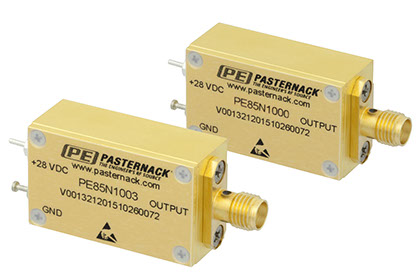 Broadband Calibrated Noise Sources
Calibrated noise source series for broadband applications
are in-stock and available to ship the same day!
Pasternack's series of coaxial packaged broadband calibrated noise sources cover a wide frequency range. Broadband calibrated noise sources frequencies span from 10 KHz to 18 GHz. These RF noise source components generate noise output ENR levels ranging from 15 to 30 dB with excellent flatness and stability over temperature.
Part No.
& Additional
Views
Temperature Coefficient /
Noise Output Variation
Calibrated
Frequencies
(MHz)
PE85N1000

0.00001 - 2

15

± 1.5

< 0.01 dB/°C
< 0.1 dB/%V

10, 100, 1000, 2000

+28

DC Pin

SMA Female
PE85N1001

0.00001 - 2

30

± 1.5

< 0.01 dB/°C
< 0.1 dB/%V

10, 100, 1000, 2000

+28

DC Pin

SMA Female
PE85N1002

0.01 -6

15

± 2

< 0.01 dB/°C
< 0.1 dB/%V

1 GHz Steps

+28

DC Pin

SMA Female
PE85N1003

0.01 -6

26

± 2

< 0.01 dB/°C
< 0.1 dB/%V

1 GHz Steps

+28

DC Pin

SMA Female
PE85N1004

1 - 18

15

± 2

< 0.01 dB/°C
< 0.1 dB/%V

1 GHz Steps

+28

DC Pin

SMA Female
PE85N1005

1 - 18

23

± 2

< 0.01 dB/°C
< 0.1 dB/%V

1 GHz Steps

+28

DC Pin

SMA Female
Click a category below for more details
For a complete list of Pasternack's products please click here
© Pasternack Enterprises, Inc. 1999-2018
Toll-free: 866-PASTERNACK (866-727-8376)
Phone: 949-261-1920
Fax: 949-261-7451