USA & Canada +1 (866) 727-8376 International +1 (949) 261-1920
USA & Canada (866) 727-8376 International +1 (949) 261-1920



Quick Connect Attenuators With QN Connectorized Designs
QN attenuator design for quick connect/disconnect
Attenuation values from 0 to 20dB
Quick disconnect QN attenuator VSWR < 1.3:1
Frequency range from DC to 3GHz
Max input power of 1W
QN Quick Connect Attenuator series is
in stock and ship same-day
▼ Click QN attenuators for more details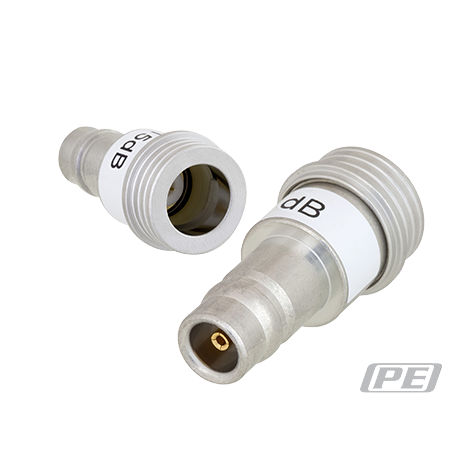 Part No.
& Additional
Views
QN Quick Connect / Disconnect Attenuator Series from Pasternack
Pasternack QN quick connect attenuators were designed for rapid and easy mating. This QN quick connect / disconnect attenuator series supports operating frequency ranges from DC to 3 GHz. These QN QD attenuators boast attenuation values from 0 to 20dB and VSWR as low as 1.3:1.

This low PIM rapid connect disconnect QN attenuator series eliminates the need for a wrench or torque for coupling. They are easy to screw-on and allow for hand-tightening, which improves installation flexibility. These quick disconnect connect RF attenuators are ideal for telecommunication, industrial, defense and aerospace industries.

Pasternack rapid connect QN attenuators are made of brass tri-metal and meet IP67, ingress protection rating, requirements. As with our other over 45,000 RF, microwave and millimeter wave components, these QN attenuator series for quick connect and disconnect are in-stock. Not only are these QD attenuators in stock, they also ship the same day are they are purchased. These and many other reasons is why Pasternack is the one of the best websites to find and buy quick disconnect QN attenuator components.
For a complete list of Pasternack's products please click here
© 2020 Infinite Electronics, Inc. Pasternack is a registered trademark of Infinite Electronics, Inc.
sales@pasternack.com
Toll-free: 866-PASTERNACK (866-727-8376)
Phone: 949-261-1920
Fax: 949-261-7451