USA & Canada (866) 727-8376 International +1 (949) 261-1920


USA & Canada (866) 727-8376 International +1 (949) 261-1920

Typical
Insertion Loss
(dB)

Frequency range of 5.85 GHz to 40 GHz in nine waveguide
bands (WR-137 to WR-28)
Available in three different length: 12, 24 and 36 inches.
Flexible/twistable neoprene sleeve
VSWR as low as 1.05:1
Insertion loss as low as 0.07 dB
All in stock and ready
for same-day shipping!
Flexible Waveguides Up to 40 GHz
Click on the links below for more details ▼
Typical
Insertion Loss
(dB)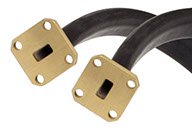 WR-28 | UG-599/U | 40 GHz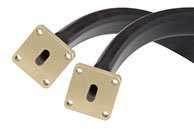 WR-34 | UG-1530/U | 33 GHz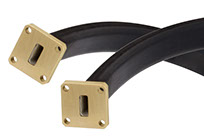 WR-42 | UG-595/U | 26.5 GHz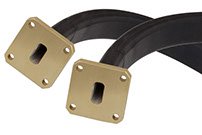 WR-51 | Square Cover | 22 GHz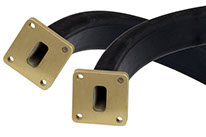 WR-62 | UG-1665/U | 18 GHz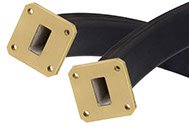 WR-75 | Square Cover | 15 GHz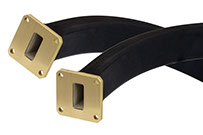 WR-90 | UG-39/U | 12.4 GHz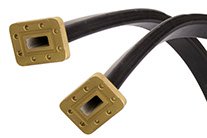 WR-90 | CPR-90 | 12.4 GHz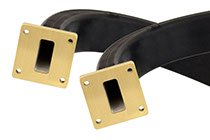 WR-112 | UG-51/U | 10 GHz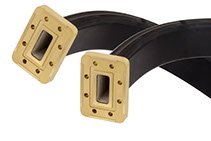 WR-112 | CPR-112G | 10 GHz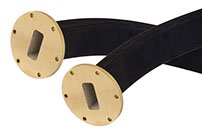 WR-137 | UG-344/U | 8.2 GHz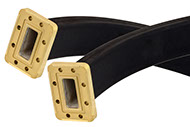 WR-137 | CPR-137G | 8.2 GHz
These new flexible waveguide products from Pasternack act as a malleable conduit in waveguide systems where there is not perfect alignment for a traditional rigid waveguide section. Often an ideal solution for test labs or prototyping, these flexible waveguide sections can easily be flexed and twisted to conform to various misalignments in waveguide systems. Flexible waveguide, also referred to as a "flexguide", utilizes helically wound silver coated brass strips surrounded by a flexible and twistable, yet durable, neoprene sleeve. The ends of the flexguide flexible waveguide are terminated with brass flanges available in nine waveguide sizes and multiple flange styles as well as "twist" varieties. Typical VSWR for these flexible/twist waveguides range from 1.05:1 up to 1.35:1 depending on waveguide size and frequency, the insertion loss performance is similar with typical levels as low as 0.07 dB. These waveguides will flex in both the E and H planes and some also twist. Flexible waveguide in lower frequency versions are available in both UG and CPR style flanges.
For a complete list of Pasternack's products please click here
© Pasternack Enterprises, Inc. 1999-2016
Toll-free: 866-PASTERNACK (866-727-8376)
Phone: 949-261-1920
Fax: 949-261-7451