USA & Canada (866) 727-8376 International +1 (949) 261-1920
USA & Canada (866) 727-8376 International +1 (949) 261-1920



40 GHz Skew Matched Cable Pairs from Pasternack
Pasternack's skew matched cables consist of three models that are extremely flexible and have 1 ps delay match. These cables deliver excellent VSWR of 1.4:1 and are 100% tested for skew match. They also include polarity indicators and restraint bands to keep themselves paired up.
These delay matched cables have a frequency range of DC to 40 GHz, covering two channels with 50 Ohms nominal impedance. They are made of micro porous PTFE cable dielectric and feature triple-shielded outer conductors, 2.92mm male connectors and finger-grip coupling nuts.
Skew matched cables are ideal for networking, semiconductor test and supercomputing industries where skew match is important.
Pasternack's skew matched cable pairs are in stock and ready for immediate shipment with no minimum order quantity.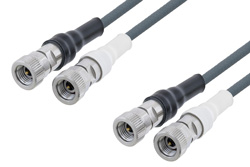 2.92mm Male to 2.92mm Male Skew Matched Pair Cable 12 Inch Length Using PE-125LLS Coax
40 GHz Skew Matched Cable Pairs
1 ps Delay Match
Excellent VSWR of 1.4:1
100% Tested Up to 40 GHz
Extremely Flexible
Polarity Indicators on Cable Ends
40 GHz Skew Matched Cable Pairs are in stock
and ready for same-day shipping!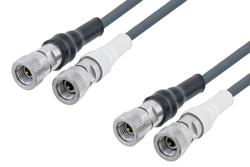 2.92mm Male to 2.92mm Male Skew Matched Pair Cable 48 Inch Length Using PE-125LLS Coax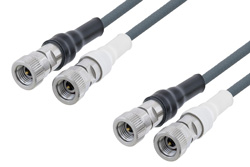 2.92mm Male to 2.92mm Male Skew Matched Pair Cable 24 Inch Length Using PE-125LLS Coax
For a complete list of Pasternack's products please click here
© Pasternack Enterprises, Inc. 1999-2018
Toll-free: 866-PASTERNACK (866-727-8376)
Phone: 949-261-1920
Fax: 949-261-7451