USA & Canada (866) 727-8376 International +1 (949) 261-1920
USA & Canada (866) 727-8376 International +1 (949) 261-1920



PIN Diode Switches
PIN diode switch frequency coverage from 10 MHz to 67 GHz
SPST through SP12T and transfer switch configurations
Models feature very high Isolation up to 80 dB
Ultrafast RF switching speed as low as 50 nsec
Absorptive and reflective switch designs
Integrated TTL compatible driver logic circuitry
MIL-Grade rugged coaxial package styles
Most coaxial switch models support field replaceable connectors
All PIN diode switch models are EAR99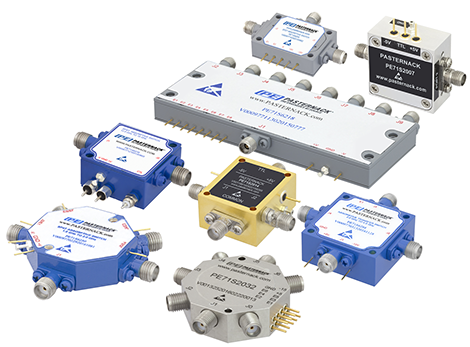 Click a PIN diode switch category below for more details
Pasternack's line of 50 ohm PIN diode switches offers designers a comprehensive selection of models with broadband frequency coverage up to 67 GHz. RF SPST through SP12T switch configurations are available. PIN diode switch components are available in both absorptive and reflective design options.

All PIN diode switch models offer leading edge performance with low insertion loss. These RF switches have extremely high isolation levels with ultra-fast switching speeds. Pasternack RF PIN diode switches are available in compact coaxial packages, most with field replaceable SMA connectors.

These PIN diode components boast rugged package designs that are highly reliable and designed to meet a series of military standard environmental test conditions. As with the other over 40,000 Pasternack RF, microwave and millimeter wave components, these PIN diode switches are in-stock and ship the same-day.
For a complete list of Pasternack's products please click here
© Pasternack Enterprises, Inc. 1999-2018
Toll-free: 866-PASTERNACK (866-727-8376)
Phone: 949-261-1920
Fax: 949-261-7451