USA & Canada +1 (866) 727-8376 International +1 (949) 261-1920
USA & Canada (866) 727-8376 International +1 (949) 261-1920



General Purpose VNA Calibration Kits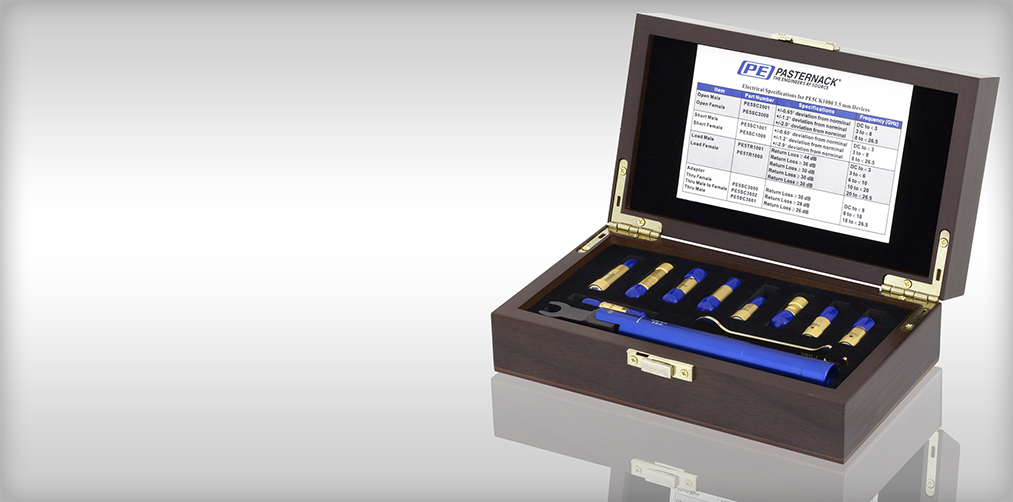 Three VNA calibration kit versions available:
3.5mm operating to 8.5 GHz
3.5mm operating to 26.5 GHz
75 Ohm Type-F operating to 3 GHz
Precision shorts, opens, loads and thru (SOLT) calibration adapters included required for full 2-port calibration
3.5mm kits include calibrated torque wrenches
All VNA kits come in a protective wooden box
Economical alternative designed to work with the most popular vector network analyzer test equipment in the industry
VNA cal kit series is in-stock and available
to ship today!
Other popular VNA calibration devices include
This new vector network analyzer (VNA) calibration kit series offers excellent performance characteristics that are specially designed for the fine-tuning and calibration of sensitive test equipment. Our general purpose VNA calibration kit series are typically used in engineering labs, production environments and quality testing facilities. All of Pasternack's VNA calibration kits are built to withstand years of rigorous use and provide accurate RF equipment calibration for the life of the product.
Each of the new network analyzer cal kits from Pasternack includes all of the necessary short circuits, open circuits, loads and thru (SOLT) calibration components required for proper testing. The SOLT cal kits are suitable for many 50 Ohm and 75 Ohm vector network analyzers from industries leading providers such as Agilent, Rohde & Schwarz, Anritsu and Copper Mountain. These RF test and measurement calibrating kits all come packaged inside protective wooden boxes.

As with the rest of the Pasternack over 40,000 RF, microwave and millimeter wave products, these general purpose 3.5mm and type F vector network analyzer calibration kit series are in-stock. Not only are they in-stock, these cal kits will ship the same day as purchased.
For a complete list of Pasternack's products please click here
© 2020 Infinite Electronics, Inc. Pasternack is a registered trademark of Infinite Electronics, Inc.
sales@pasternack.com
Toll-free: 866-PASTERNACK (866-727-8376)
Phone: 949-261-1920
Fax: 949-261-7451