USA & Canada (866) 727-8376 International +1 (949) 261-1920
USA & Canada (866) 727-8376 International +1 (949) 261-1920



Highly Flexible Vector Network Analyzer (VNA) Cables Up to 50 & 60 GHz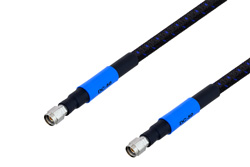 2.4mm Male to 2.4mm Male Precision Cable Using High Flex VNA Test Coax, RoHS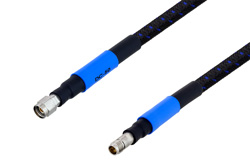 2.4mm Male to 2.4mm Female Precision Cable Using High Flex VNA Test Coax, RoHS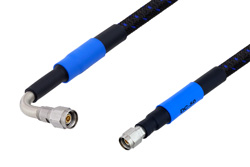 2.4mm Male to 2.4mm Male Right Angle Precision Cable Using High Flex VNA Test Coax, RoHS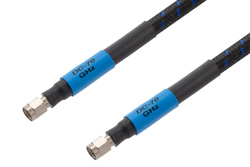 1.85mm Male to 1.85mm Male Precision Cable Using High Flex VNA Test Coax, RoHS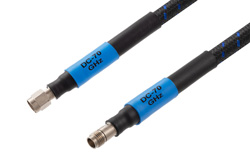 1.85mm Male to 1.85mm Female Precision Cable Using High Flex VNA Test Coax, RoHS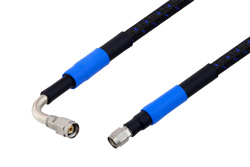 1.85mm Male to 1.85mm Male Right Angle Precision Cable Using High Flex VNA Test Coax, RoHS
High Flexibility VNA Cable Series
Our highly flexible vector network analyzer (VNA) test cable series have excellent electrical properties. These flexible VNA cables have a low VSWR of 1.3:1 at 50 GHz and 1.4:1 at 67 GHz. Pasternack's high performance network analyzer cable series features superb phase stability with flexure of +/- 6° at 50 GHz with the 2.4mm connectors and +/- 8° at 67 GHz using 1.85mm connectors.

The braided stainless steel VNA cable armoring surrounds the flexible, high performance coax. This strong amored coax provides a rugged, but flexible RF test cable with a flex life exceeding 100,000 cycles. The rugged stainless steel 2.4mm and 1.85mm test connectors provide up to 5,000 mating cycles when attached with proper care.

The superior flexibility of these analyzer cables makes it easier and safer for testing a Device Under Test (DUT). A swept right angle connector option allows these RF test cables to fit in tight spaces and can reduce the length of cable required in many applications.
Customers Who Bought These Flexible VNA Cables Also Bought
For a complete list of Pasternack's products please click here
© 2020 Infinite Electronics, Inc. Pasternack is a registered trademark of Infinite Electronics, Inc.
sales@pasternack.com
Toll-free: 866-PASTERNACK (866-727-8376)
Phone: 949-261-1920
Fax: 949-261-7451